I realized I never really updated you guys about the healing of Jack our orange cat. Remember the cracked jawbone, the limp he walked with and his starved state when he came home following his 2 weeks missing in action?
For financial reasons we didn't rush him off the the vet. He wasn't appearing to get worse and was not displaying any signs of major discomfort so we nursed him back to health at home.
Turns out his teeth weren't all missing, rather many of them were just displaced and covered by swelling and puss.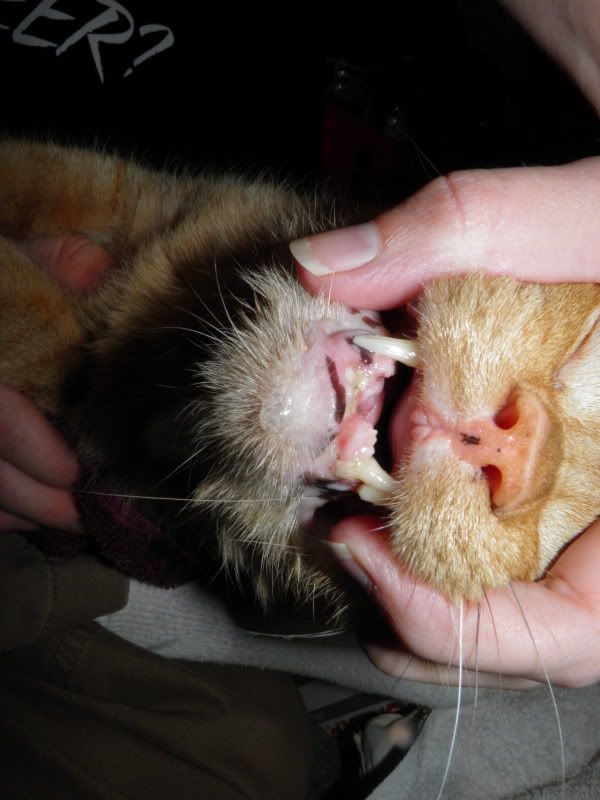 Used a peroxide & witchhazel rinse for his jaw, gums and teeth injury. Fed him and kept him comfortable and loved… That darn jawbone thing healed on it's own. Can you believe it?
All the gum line that was hanging away from the bone and swollen went back in to place on it's own. He didn't lose the teeth that were part of the hanging grossness. He is still able to eat fine and it is almost like nothing happen at all. Crazy!
He still has a slight limp when he runs and to the touch you notice something about his shoulder that isn't like the other one but he is basically good as new now and happy to be home. We will never know what saga he went through to get the injuries he come home with and that kept him away for so long. He sure had the will to live that day when he dragged himself home all wounded and starved to death. We are just glad he is okay and that he is happy.
Animals are pretty amazing creatures. They have great instincts and are typically very capable of bouncing back from injury, with a little help from their people. We just remind ourselves that once, they were wild and did fend for themselves. And generally all of our bodies, when paid attention to, have the capacity to mend and adapt to trauma or illness. Jack is a just another great example of this.